Saturday, September 28, 2019
6:30 p.m. - 10 p.m.




@ The F&M Trolley Barn
Featuring food & libations...
Jim 'N Nicks Community Bar-B-Q
Bourbon on the Bronco, Beer, Wine, & Cheerwine
Live entertainment & games...
The Trail Blazers, Austin McNeill Duo, and a live DJ
Heads & Tails, Wine Pull, & Spoon Pull
All proceeds go to Crosby Scholars Last Dollar Grants.
Tickets $40 per individual or $75 per couple.
To pay by credit card, please reserve online.
To pay by cash or check, mail or stop by the office at 225 N. Main Street, Salisbury or at the door.
BBQ, BANDS & BOOTS 2019
Good eats, Good music,

Good

Great cause!
A night to support the building of a 'college-going culture' in Rowan County.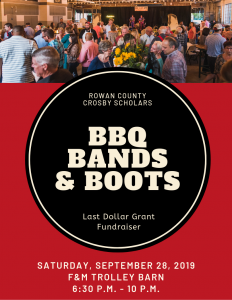 The fifth BBQ, Bands, & Boots community event for Rowan County Crosby Scholars is slated for Saturday, September 28, 2019, designed to raise funds to support our mission of preparing each student in Rowan County for successful college admission.
Funds raised from this event will be utilized to underwrite the Rowan County Crosby Scholars Last Dollar Grant program. A Last Dollar Grant is need-based financial aid awarded to qualifying graduates of Crosby Scholars who demonstrate unmet need toward their college of choice. Crosby Scholars who complete the Program their senior year with a cumulative GPA of 2.0 or higher are eligible to apply for a Last Dollar Grant of up to $1,000 for as many as 4 years of college. To determine eligibility, the Crosby Scholars staff completes a need-analysis based on each scholar, individually.
Since our first class of Crosby Scholars graduated in 2016, over $450,000 in Last Dollar Grants have been awarded to help make the dream of college a reality for Rowan County students. The funds raised from BBQ, Bands, & Boots continue to go directly back to our students!